With the excitement around NFT space, you may want to know how to get started. Well, in short you will need to find a marketplace relevant to your interest and set up your wallet that will hold the NFTs you bought.
Choosing your NFT marketplace will depends on your goal whether you want to buy NFTs that are associated with communities, led by venture capitalists, decentralised or even licensed NFTs.
You won't go wrong by signing up on marketplaces like LooksRare or OpenSea (Ethereum network). If you are a gas fee cautious Mintable (Layer 2 Ethereum) will suit you. And finally, other well-known marketplaces on other blockchain networks will be Magic Eden (Solana Network) and Galaxy of Art (Cardano Network).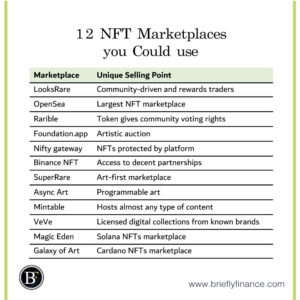 Ideally before choosing which marketplace you prefer, you will have to ask yourself questions to identify which marketplace(s) you want to be in.
Are you after profile picture projects, community and utility driven? (LooksRare and OpenSea)

Are you after artistic 1/1 (Foundation.app)

Interactive ready no gas fee platform? (Mintable)

Licensed NFTs like buying your very own Mickey Mouse? (VeVe)

Programmable Art? (Async Art)
1. LooksRare
LooksRare is a community-first NFT marketplace on the Ethereum network. So far, what makes them a viable option is  that they listen to their community and are giving back to them.
They reward their users for trading, token holders with the fees generated from sales (anyone can own these tokens and start making money from fees) and additionally creators of NFTs in the platform get the money instantly.
If you are planning to be trading NFTs. I would encourage using this platform as your primary and have OpenSea as the secondary (which you may find a cheaper listing prices). At the end of the day you will be paying less fees and also be rewarded with tokens that can generate you income in the future.
I personally switched to LooksRare recently, as I see it is a promising platform and more affordable (Disclaimer: I do own some of their tokens $Looks which could make me biased)
2. OpenSea
OpenSea is the oldest and largest NFT marketplace on the Ethereum network. They achieved $3.2 billion in sales in total (Boardroom 2022).
Using this platform will help you find most available listings as they have huge number of over 1 million wallets who are interacting in this platform.
It is the platform that will first come to mind when discussing NFTs and it is also the one the most likely be used as an introduction to the NFT space.
The only downside is the competitive advantage that LooksRare starting having which is rewarding traders and also charging less trading fees.
Note: If you are looking for a hardware wallet (adds extra layer of security for your assets), I would recommend checking out Ledger . Personally, I use Ledger Nano S as it does the job i need and it is affordable. 
3. Rarible
Rarible is another Ethereum network platform. Unlike both OpenSea (centralised) and LooksRare (decentralised), Rarible started as a centralised platform and in 2021 they planned to gradually give control to the holders of the $Rari token.
Their volume compared to LooksRare and OpenSea has been very low. It is because most users are using OpenSea and many are also trading on LooksRare to support a decentralised framework.
4. Foundation.app
Launched in early 2021, Foundation platform is an auction based NFT marketplace with invite-only by community for the artists. Collectors are able to sign up and join the auctions of the listed NFTs.
The invite idea to creators can be an added filter for you as a buyer to make sure you get the best options. But it also means you will have to be in auctions if you want to buy an NFT, unlike other platform where you can "Buy Now".
Also if you like artistic pictures and designs this is where you should go.
5. Nifty gateway
Nifty gateway is a NFT marketplace powered by Gemini's custody technology. This means that users have the benefit of being able to do transactions with no gas fees and also have their items protected by the platform.  This Gemini's technology protects your tokens on an offline wallet allowing another layer of security.
If you like buying with your credit or debit card you can use this platform as it allows you to do so. So if you do not want to use a cryptocurrency wallet you could use this platform.
6. Binance NFT
Binance is one of the largest cryptocurrency exchanges. Binance NFT could offer easy access for their users to buy NFTs given many are already using this platform to buy their crypto.
This platform accepts payments in Ethereum, BNB, and BUSD.
Binance have their own accepted listing along with some good partnerships.  Such platform could be also a good place to test out the NFT space and allow you to get into reliable projects.
If you are interested in joining Binance feel free to use this referral link, it will give me and yourself 10% commission on every trade across the platform.
7. SuperRare
SuperRare marketplace is focused on single pieces of art while prioritising the artistic designs rather than the meme and profile picture projects. It does not accept any type of project as it filter out to you the best of the best if art-first collections.
Just like Rarible business model, they have released a token to allow holders to vote on the future of the platform through the $Rare token
8. AsyncArt
This NFT marketplace is a place where you can buy programmable art. Which means is that you could buy an NFT that has multiple layers of pictures on it and is altered based on how it is programmed. And these pieces of art can be programmed to react to conditions set by the creator.
Basically, these NFTs will change depending on different conditions. For example, a picture could have a sun in the morning and a moon at night.
If you enjoy creative and interesting marketplaces this could be one that you should have a look at.
9. Mintable
Mintable is a marketplace backed by billionaire Mark Cuban. It is a platform that allows minting any type of content (like JPEGs, PNGs, MP4s, PDFs, etc.).
What makes Mintable unique is it allows users to also mint using Immutable X which is a layer 2 network with no gas fees. If you are interested in NFTs with no gas fees you can buy Immutable X NFTs from Mintable.
But again the number of users is having influence on the listed items prices on their marketplace. Which means you may end up finding a project you like with a better price on LooksRare or OpenSea.
10. VeVe
VeVe is a user first NFT digital collection marketplace. You can buy licensed digital collections and comics from well-know brands like Disney, Cartoon Network, Superman, Jurassic Park and much more.
It is an Ethereum based NFT that is going to be launched soon in Immutable X, however you can also simply purchase NFTs from their mobile application and pay with cash.
VeVe NFTs are built around brands and its worth looking at especially if you are a collector in nature.
They do have collectors programs rewarding holders, a showroom where you can keep your NFTs for others to see, and going to build their own Metaverse thus means there should be more practical uses of the NFTs in the future.
Non-Ethereum Based NFT Marketplaces 
If you are interested in buying in projects that are outside the Ethereum network, here are two.
11. Magic Eden
Magic Eden is a Solana based marketplace that have different collections which require very low gas fees for doing transactions and it is also very fast.
12. Galaxy of Art
Finally, Galaxy of Art is a Cardano network NFT Marketplace, and just like Solana network, Cardano network provide low fees and fast transaction speed benefit to users.
Final Thoughts
There are many marketplaces you can choose from, but just know that whatever you own in the NFT space you own which will be recorded in the blockchain network. So when you choose a marketplace, find what matches your goal do not worry much about the other  marketplaces options or competition, because even if a marketplace shut down you own what you own.
Related Posts:
Disclaimer: Above links are affiliate links and at no additional cost to you. I may earn a commission. Know that I only recommend products, tools, services and learning resources I've personally used and believe are genuinely helpful and relevant. It is not because of the small commissions I make if you decide to purchase them. Most of all, I would never advocate for buying something that you can't afford or that you're not yet ready to implement.