We live in a world where people fake their lavish lifestyle through Instagram. What they do impact how we view money. The 3 money mindset books I want to share could make you change your perception of how you view those people.
In this list, my goal is to provide different variety of money mindset books that will be good starting point to have when looking at money.
The Impact of these Books on my mindset
Early in my career I used to live pay-check to pay-check. With my ambitions, I have taken leap of faith to open my first business and it was a website development agency. I was doing fine when it comes to the operations side, but the reason I failed was I didn't keep enough money to pay my office rent. I had to quit and look for a job again.
Looking back I realised my business failure was because I didn't have the mindset to at least save some money.
Today after 4 years from that failure and reading and listening to many audiobooks. I have a full-time job my income didn't increase significantly. But being exposed to money mindset books and following relevant principles to that matches lifestyle I feel comfortable and more confident in my current situation.
Having this backup fund and the skills that I developed makes me worry less if I will ever be laid off.
Many books impacted my life and these 3 are just a couple that I wanted to share with you guys and hopefully it can do for you.
There are few money principles that we forget when it comes to managing our money. The Richest Man in Babylon provide simple money principles that have been overlooked but are very important.
If you are the type of person that spends too much money then feel guilty all the time. This book can be an inspiring start to develop your mindset and habits to build your wealth.
Book Highlights
Importance of Saving Money
Pay yourself first, once you get your salary keep 10% of that amount and save it. if can save more do it. Also, take 20% and pay off your debt.
Taking action and working hard will increase your chances of success. If you do that, it will pay off eventually.
Its not what you Earn its what you Keep
Being rich is not always related to what you earn its about what you keep. It is about the difference between your needs from your desires and live within your means.
Don't Miss Opportunities and Take Wise Decisions
Great profits can arise when you find good opportunities specially on what you know about. Just avoid losing all your money when you invest or start a business.
Learning how to build and sustain your wealth is more important than being wealthy. Because if god forbid you lost your money you still know and have the skills to make and build your wealth back faster.
After saving and increasing your income. Look for ways to grow it passively and be prepared for any scenario that could face you in the future.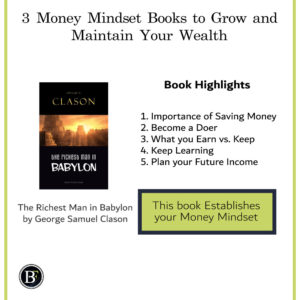 To get the book from Amazon Click Here 
This book will talk about a story where Robert has two dads. His biological (poor dad) and his rich dad that gave him the money advice. He will talk about what he learned from him.
This book is controversial, some people would say the actual story about the rich and poor dad are fictional. Others will say that the author doesn't know accounting. I personally may not agree with everything in this book myself. But that does not mean that it is not a good to read material specially from a money mindset standpoint.
Living at the 9-5 routine and having everyday conversations with employees influence us to never have the motive or dream to start going towards our financial goals and it can also create a false view that success is only for the smartest around.
Book Highlights
Think about what you buy. Does it make you money? Asset puts money in your pocket liabilities take money outside of your pocket.
Don't Work for Money. Let Money Work for you
It is important to focus on buying good investments rather than just focusing on generating more income.
Educate yourself in Personal Finance
Master financial literacy through accounting, investing, understanding the supply and demand, and the Law
You should know about a lot of subjects and don't focus on doing the job only. Improve yourself while working your full time job.
Find Opportunities and be a Problem Solver
Take chances and be bold. When facing obstacles don't be scared,  don't self doubt or be lazy or arrogant take action.
Steps you can take to Achieve the Financial Genius
Remember you why, what do you want to achieve? what are your habits? the people you are around?  learn and grow, save money, get good advice, buy your luxury with the extra income, choose your heroes, and finally teach others.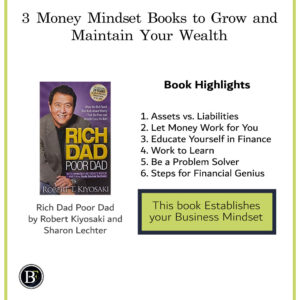 To get the book from Amazon Click Here  
This book talks more about investing, the author Tony Robbins have interviewed many of the great investors like Warren Buffett, Ray Dalio, Carl Icahn, and many others and have wrote that book filled with their experience.
Unlike the other two, this book is more actionable. I know our goal in this post is to find money mindset books. But with some steps and practical applications it can also help developing required habits and lifestyles for growing our wealth.
Book Highlights
The Seven Steps to Financial Freedom
Decide to commit for your freedom, know the rules and myths of money, specify the amount you need to achieve for your financial freedom, plan your investment asset allocation, create a lifetime stream of income, your investment philosophy, and ways to enjoy your life.
Phases to Achieve Financial Freedom
The accumulation phase, where you save money and build it until you reach your financial freedom. Then there is the spending phase where you can spend your money freely. These steps can be personal for each individual depending on their view of financial freedom.
How to Reach Financial Freedom Fast
Don't just be a consumer but also be an owner. The book discusses ideas on saving and increasing your income.
It discussed about Ray Dalio's all weather portfolio. Ray Dalio is the founder of the world largest hedge fund Bridgewater Associates and have been achieving around 10% annually from 1984 – 2013 which made positive returns around 85% of the years.
Importance of Income for Sustainable Future
Put your money to what generate an income and not necessary growth you will need the cash flow. For example, investing in an annuity which is an investment with an insurance company that will provide you with income throughout the span of your life.
Invest in experiences, grow through learning, buy what can save you time for yourself, and giving charity.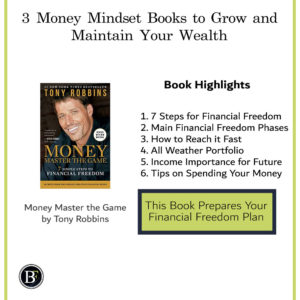 To get the book from Amazon Click Here 
Final Thoughts
There are many money mindset books that we could have discussed here. The reason why I had these three in mind is because they did impact me one way or another and also because they are different. I will probably do more book discussions on other ones in the future. Thank you for reading and I hope you enjoyed the post! 
Before you leave, please let me know if I missed anything in this article. Also you liked it please share it with your friends who you think that these books could impact their lives. 
Disclaimer: Above links includes affiliate links and at no additional cost to you, I may earn a commission. Know that I only recommend products, tools, services and learning resources I've personally used and believe are genuinely helpful, not because of the small commissions I make if you decide to purchase them. Most of all, I would never advocate for buying something that you can't afford or that you're not yet ready to implement.
Related Posts: