If you are interested in growing  your wealth over the long-term then value investing is where to start. In this post i will share with you the 3 must have value investing books for beginners.
Before reviewing the books let us have a brief introduction about value investing.
Value Investing
Suppose you invested $500 every month for 15 years with an annual return of 7%. Doing that will make you reach more than $150,000 at the end of the 15th year. That is the typical route of value investing. Just remember, it takes a lot of time and patience.
Being a Value investor is beyond just the understanding of financial statements. It is about having the mindset to handle the market fluctuations and take wise decisions.
Let us get started with the books.
1. The Intelligent Investor by Benjamin Graham 
Warren Buffet says that the intelligent investor book  is "By far the best book on investing ever written."
If you ever wonder who is Warren Buffet, he is the greatest investor of all time. Berkshire Hathaway a company he owns achieved an annual compounded return of 20.5% from 1964 to 2019.  Thus, a 1,000 dollar invested in Berkshire would make you a $26.7 million today.
The intelligent investor is a good book to prepare your value investing mindset.
What do you Expect to get out of it?
Introducing the difference between investing and speculation.
As you know we are in a world with traders encouraging day-trading and bitcoin and who calls that investment. Some traders are doing really well but their technical analysis and decision making methods are speculation and not investing.
Discussion about margin of safety and figuring out undervalued stocks.
For example, if you invested in a company with 8% earnings. The margin of safety will be the difference between the 8% and the risk free bonds which are giving loans to the US government. Don't worry if it seem complicated, it is just comparing the returns of a stock versus a risk free bond.
Introduce the concept of Mr. Market.
It discusses how the market can be unreasonable when showing prices and how it fluctuate on daily basis.
Tips on how both defensive and enterprise/active investors behave.
In terms of diversification,  which company size they invest in, performance, and valuations.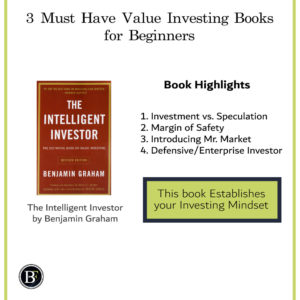 To get the book from Amazon click here
In summary it is a great book to start getting into value investing, it is not necessarily the easiest to read. However, it is still recommended because sooner or later any value investor would read this book at least once.
2. Common Stocks and Uncommon Profits by Philip Fisher 
While the intelligent investor is ideal to give you the investing mindset. The Common Stocks and Uncommon Profits provides a framework about analysing the performance and future growth potential of an investment.
When I first started investing, I used to have the traditional value investor mentality where I will look for bargains, get some idea from the income statement historical return growth and some future prospects ideas then take decision.
After reading this book I realised that there is much more depth in analysing a company.  The framework provided in the book was very helpful to follow and can work hand in hand with the principles from the intelligent investor.
What do you Expect to get out of it?
This book will introduce an investment framework/checklist you can start following when investing
It is a large list providing guidance and making it easy to follow. Example of the topics would include the market/industry conditions, product research and development and sales, and management.
It presents unique ways to analyse business performance.
For example, I learned that it is not only the future prospect of a business is from the existing products, there is beyond existing products which we need to see like the research and development.
I also  realised from this book that gross profit margin is not all about cost saving. Gross profit margin can also be seen as how strong the company in surviving downturns.
The book provides tips on where to gather information about the company you are analysing.
it is not necessarily from annual report, it can be through unconventional sources like talking to relevant people, competitors, and suppliers.
It touched on relevant metrics and discussed which are important and which are not.
The author discussed dividends, diversification and other topics individually sharing his experience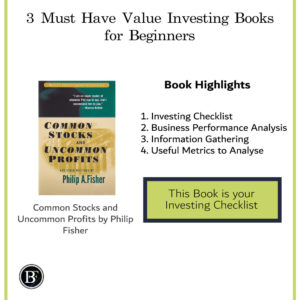 To get the book from Amazon click here
This book will allow you not just find a stock and think "this is cheap and exciting" it will allow you to see beyond, ask more questions and have a very strong believe "Aha!" moment about the company you invested in.
3. Poor Charlie's Almanack by Peter D. Kaufman
This book is a unique one, it is not specifically about value investing. It is a biographical book with variety of ideas and philosophical thoughts relevant to Charlie Munger.
Charlie Munger is Warren Buffets lifetime partner in investing. Unlike Warren's personality, he is a low profile person that not everyone knows about him.
There are "not too many people I listen to," Buffett told CNBC. "But, Charlie, he's given me a lot of good advice over time. And, I may hate to take it to a certain degree, but sometimes — but my decisions have been better. I've lived a better life because of Charlie."
Throughout reading this book, you will feel that your intelligence about investing will grow. You will start seeing investment from different angles. You will also enjoy reading it if you like stories. It is an unexplainable experience.
What do you Expect to get out of it?
The concept of staying in your circle of competence.
Sticking to what you know will give you a competitive advantage compared to other investors.
It discusses business momentum in stocks
It discusses how businesses if seen from multiple angles, you will notice the momentum in it. Charlie calls it the "Lollapalooza" effect.
It encourage a multidisciplinary skills through reading and learning from others
Having knowledge in many different fields and topics will make your decision making process wiser.
It also covered Charlie's life/investment philosophies.
These ideas are scattered throughout the book. You would encounter his own checklist of investment from one hand. While how was his experience learning from others in the other hand.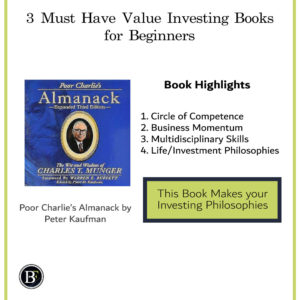 To get the book from Amazon click here
If you are the person that did not have enough reading the intelligent investor and want more ideas to get the investment mindset going. I would recommend this book.
Final Thoughts
Each of these three books covers an area of investing, I specifically recommended these three investing books for beginners together because it gives an overall understanding of value investing. There are many other books that are very good too. I will surely discuss them with you guys in future posts.
Before you leave, please let me know if I missed anything in this article. Also you liked it please share it with your friends and introduce them to value investing.
Disclaimer: Above links includes affiliate links and at no additional cost to you, I may earn a commission. Know that I only recommend products, tools, services and learning resources I've personally used and believe are genuinely helpful, not because of the small commissions I make if you decide to purchase them. Most of all, I would never advocate for buying something that you can't afford or that you're not yet ready to implement.
Related Posts: