The concept of NFTs is spreading very fast in the world. People are getting excited for the digital ownership and the web3.0 interactivity.
Others are concerned that it is just a fad and with unreasonably high valuations. For example, OpenSea sales volume was around $145 million on 23/2/2022 (Dune Analytics) which is a lot!
NFT is not necessarily a bubble. But keep in mind that around 90% of the projects will fail.
I like the balance GaryVee founder of VeeFriends has when discussing the concept. There are many of the NFT projects are going to be wiped out.
Before starting the post, here is also a poll I made to my followers on Twitter. I am surprised with the result that more than 50% of them think NFT is a bubble despite the fact that my followers are into NFTs.
Bullish: It is legit and there fairly valued NFTs 
 
1. Established Blockchain Technology
It has been more than 10 years since the blockchain technology has been established. Many believe that the concept is proven and will be mainstream in the future.
With a decentralised platform and the ability to have whatever you want in a very secured network is making users to believe that this technology is going to stay.
The blockchain technology gets more secured the more verifiers participate in it (which they are), and it gets more supported the more money enters the system (total cryptocurrency market cap in 2022 is around $1.7 trillion).
2. Digital Ownership 
This huge industry is driven by the hype around digital ownership. Users particularly gamers, are already used to buy digital assets on video games (which they do not actually own). So when an industry like the NFT that is built on blockchain, made it possible for the users to own what they buy in their wallet which is exciting.
It's just like buying an art. Collectors buy art because they like it. In the case of NFTs, people pay money to own digital assets verified through their online wallet.
It is easy to buy and buyers are able to make sure that they do not have to deal with physical art challenges like getting scammed or deal with risk of shipment mistakes.
3. Overcoming the Middleman
Many aspiring artists and programmers want to start their creative journey without having to go through the tedious publishing process and having their work subjectively by publishers' preferences.
With the NFT space, artists can sell their  art, games, books, musics and distribute part of the value to their initial fans.
NFT allows value move from artist/publisher to artist/fans whether by sharing royalties, benefit from accessibility to the artist, early sneak peek and voting rights.
For example, Steve Aoki a well-known DJ has  A0K1VERSE a NFT drop that gives the holder an access to his worldwide events, token-gated events, merchandise and much more.
4. Web 3.0 and the Metaverse
Metaverse
NFT optimists believe that the metaverse is going to be real and users will interact with each other through the metaverse instead of just using the traditional social media.
What it means is, that instead of viewing a friend profile, you will be able to access a virtual reality world and see his virtual house, room, showroom (depending on the social media platform).
Companies right now are competing with each other to make metaverses. Just to mention a few, the Sandbox, Decentraland  and Meta (Previously known as Facebook).
On the other side fashion brands like Adidas, Nike, Burberry are all working in building their NFT collections to provide digital wearables for their users.
To justify the high prices of NFTs, it is because these brands are selling lands on the metaverses and digital fashion wearables which are both limited supply and first editions. This means they could hold high value in the future.
Web 3.0
I believe there could be much more than just the metaverse but there is more utility. With Web3.0 technology, you are able to connect your wallet to any website and use your NFTs as an access for premium benefits which could include anything from token-gated pages to discounts on websites.
And yes, whatever in your wallet can be seen by multiple websites. For example,  buying a life-time discount NFT may allow you to benefit from discounts from many different e-commerce sites forever.
I do not want to make this long, here is a post I discussed about the potential future trends of the NFTs space.
5, More Valuable over Time
The NFT space will have a lot of failed projects for sure. But we can not compare it directly to the dot-com bubble.
Part of the reason why is when a stock price goes to $0 it has no value and nobody wants to own a piece of paper. But when a digital asset goes to $0 it could always increase in value one day. In the future,  NFT archeologists may be interested to hold these historical digital assets.
Bearish – Exaggerated prices & it will collapse 
1. Not Backed by Fundamentals
From the bearish point of view, the NFTs do not have any fundamentals to validate its value.
They see it built on a blockchain/cryptocurrencies which has no real value because it is not backed by an asset (only driven by supply/demand). NFTs are also digital asset which anyone can right-click copy and paste.
The technology is hyped by influencers, memes, and artists who create false belief for buyers about the real value of the NFTs.
2. Legal Challenges
Not all NFTs will give copyright for the art. It will all depend on the creator of the art.
Also, some creator may steal other artists digital assets and sell it to the public which could cause  a challenge for buyers.
There is little more depth in this section, but I am not a legal advisor, so here is a post discussing NFT bubble from a legal perspective.
But in general such restriction make people believe that NFT has no value nor ownership benefit.
 3. It is a Scam
With this current market dynamics, NFT sellers can get away by making millions of dollars without even showing their identity which leads to a higher probability of getting scammed.
For example,  Balloonsville a Solana NFT recently scammed their users with around $500k. They did not show their identity, hyped the users up and did great marketing for few weeks. After they sold out and generated some additional income from the secondary market royalties they rug pulled the project and took the money. 
It gets even more wild,  scammers are not only the creators, but also they could be the buyers who have influence by hyping projects making their NFTs more valuable and then sell it all or as they call it "pump and dump". This ruins the whole project as momentum and trust is important in the NFT space.
 4. It is a Pyramid Scheme
If you ever talk to someone who is deep into the NFTs, they will do anything to drag you with them. As an outsider it feels weird of why are they loyal to the project they are in and it feels like a pyramid scheme.
Given nature of how strong communities are built around the NFTs, everyone feels like they are an ambassador.
It can be disturbing to other people when someone nags them to buy a NFT which then they end up labelling NFT holders as members part of a pyramid scheme.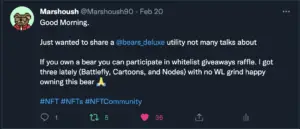 As you can see above, I am also a victim of telling everyone about the projects I firmly believe in. This is not a financial advise and do your own research. But I am very strong believer of the Impact Theory Founders Key and Bears Deluxe.
I see myself holding these two projects for life (regardless of what price is). So I would certainly want to have my close friends/family be part of those communities.
You may not get how the NFT holders feel until you buy your own, Here is a more detailed post on why NFTs feel like a pyramid scheme. 
Final Thoughts
Many projects will fail and the blockchain technology has to keep functioning otherwise the bubble will burst. But I believe there shouldn't be generalisation about a whole industry being a bubble.
Related Posts:
Disclaimer: Above links are affiliate links and at no additional cost to you. I may earn a commission. Know that I only recommend products, tools, services and learning resources I've personally used and believe are genuinely helpful and relevant. It is not because of the small commissions I make if you decide to purchase them. Most of all, I would never advocate for buying something that you can't afford or that you're not yet ready to implement.